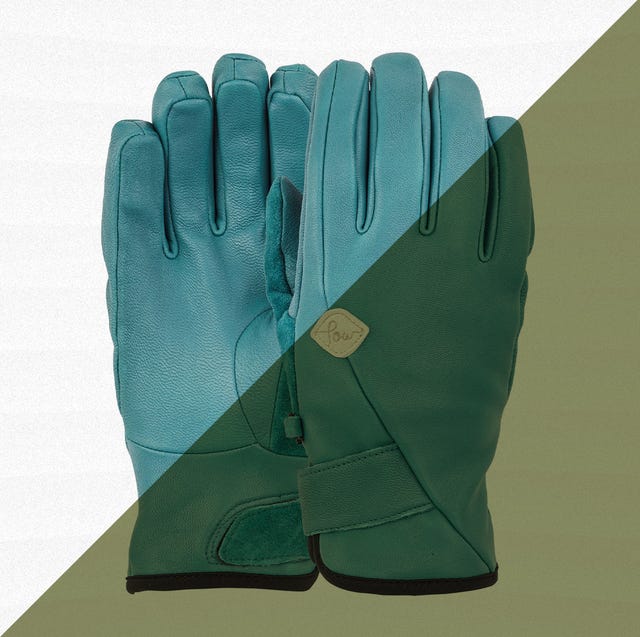 STAFF, COURTESY OF POW
There's nothing quite like being in the middle of a downhill run and realizing your hands are way too cold or that you can't grip your poles any longer. The wrong gloves can cut a day on the slopes short, whereas the right ones can provide comfort and safety from the elements. There's a ton of ski gloves to choose from. Here's what you need to know to find the right pair, followed by my top nine recommendations.
Heating Up: Trying to Keep Your Hands Warm? Choose Mittens, like Bernie. | The Army Found a Way to Keep Your Hands Warm Without Gloves | The Best Winter Work Gloves
Choosing the Right Type
The right glove for you depends on how cold it will be outside and what activity you're using them for. There are three main types of gloves to consider.
Mittens
Mittens allow four of your fingers to share heat within the main pocket. Although the heat-trapping capability is a plus, it can be trickier to pick up items or unzip layers mid-adventure while wearing mittens. This style will do the trick for you if you're a snowboarder (it's still easy to strap on bindings) or are doing other activities that take less dexterity.
Finger Gloves
Standard gloves separate your fingers and are known for increased flexibility and dexterity. This type of glove is great for skiers who need to hold on to their poles or for doing other activities where you need to use your fingers. If you get cold easily, be aware that this type of glove does not retain heat as efficiently as mittens.
Trigger Mittens
Also known as lobster claw mittens, these hybrid gloves combine the warmth of a mitten with the dexterity of a finger glove. This glove is well suited to a variety of activities, but can be less common and sometimes more expensive since they are currently experiencing a resurgence in popularity.
How We Selected
I've been adventuring outside in the cold Rocky Mountains for nearly 15 years now. My main activities have been snowboarding and cross-country skiing, so I've had the opportunity to test and purchase an array of gloves. I've also worked at a local ski hill in Alberta, Canada, and deeply understand the importance of gloves that keep you warm from sunrise to sunset. I considered the type, materials and insulation, waterproofing, cuff style, and cost of many options. On top of that, I've surveyed thousands of reviews on websites like Amazon and Walmart to help create this guide.
BEST FOR ALL-DAY USE Hestra Army Leather Heli Ski Mitt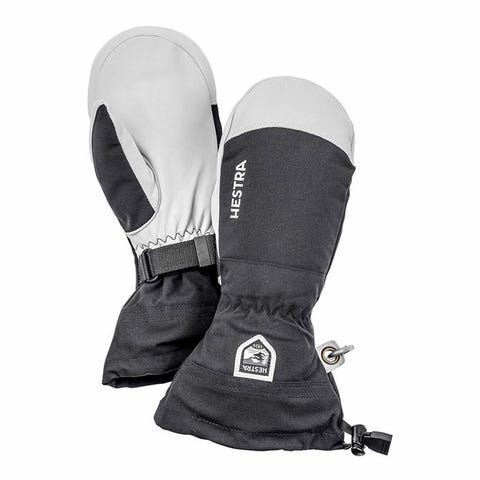 HESTRA amazon.com $154.95 SHOP NOW
Key Specs
• Shell Material: Hestra Triton Nylon and leather
• Insulation: Synthetic Fiberfill
• Cuff Style: Over the cuff
These Hestra mittens are a favorite among skiers. They provide a good balance of keeping your hands warm and providing enough dexterity to manage your bindings, ski poles, and zippers. The outer layer is waterproof, windproof, and breathable, making it a great option for all-day activities.
You might need to re-waterproof the leather palms if they get drenched often
BEST VALUE Pow Chase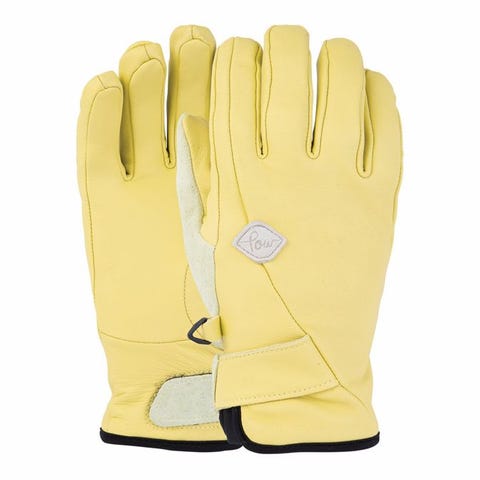 POW powgloves.com $70.00 SHOP NOW
Key Specs
• Shell Material: Leather
• Insulation: 3M Thinsulate synthetic
• Cuff Style: Under the cuff
Sleek and minimalistic, the POW Chase Gloves are of excellent quality for the price. The waterproof insert ensures you're dry even when it gets slushy out, and you won't need to worry about pilling since the lining is made from an anti-pill polyester micro-fleece.
Cuff could be longer to protect more of your wrist and forearm
BEST GLOVE SYSTEM Dakine Titan Gore-Tex Gloves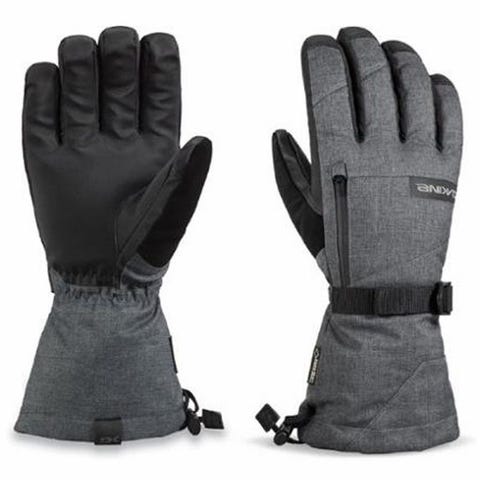 DAKINE rei.com $70.00 SHOP NOW
Key Specs
• Shell Material: Recycled polyester and polyester melange
• Insulation: High-loft synthetic
• Cuff Style: Over the cuff
Play around in the slush in these waterproof gloves from Dakine. They are weather-resistant and have a set of liner gloves that you can use with your touchscreen device. Other bonus features include a pocket for a heat pack, nose-wipe thumb panels, and a removable elastic wrist leash.
Great features for the price
Bulky, limiting dexterity
BEST MITTEN Burton AK Oven Mitten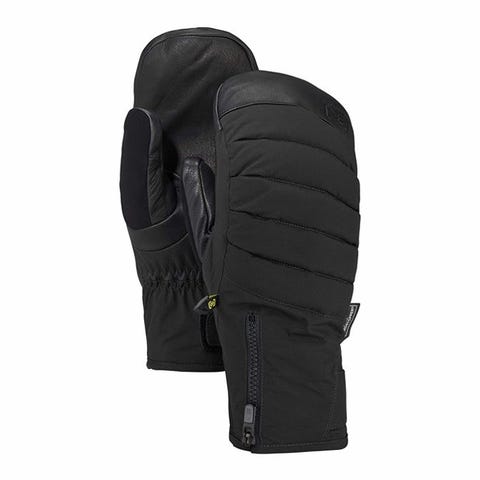 BURTON amazon.com $149.95 SHOP NOW
Key Specs
• Shell Material: Gore Windstopper and leather
• Insulation: PrimaLoft Gold synthetic and goose down
• Cuff Style: Under cuff
The windproof, waterproof shell on these Burton gloves shields you from the elements, while the goose down insulation keeps you warm. The under-the-cuff style, designed to tuck into your jacket sleeve, is low-key and stylish.
Durable leather palms
Thumbs are touch screen compatible
Easier for snow to get into sleeves
BEST LINER GLOVESREI Co-op Merino Wool Liner Gloves 2.0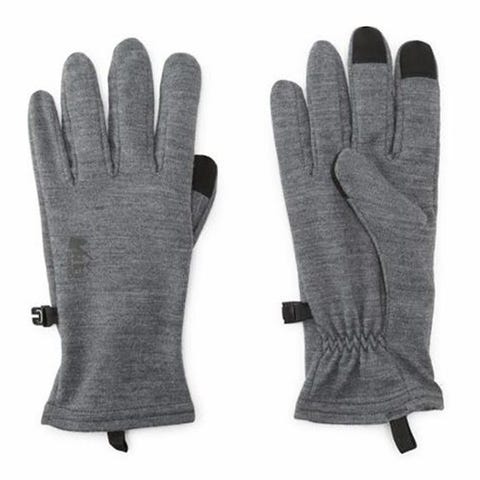 REI CO-OP rei.com $29.95 SHOP NOW
Key Specs
• Material: Merino wool and recycled polyester
• Insulation: N/A
• Cuff Style: Under the cuff
Throw these glove liners under a waterproof shell or another pair of gloves to boost heat retention. Because they're made from Merino wool, they're naturally odor-resistant and moisture-wicking so you won't immediately catch a chill from sweaty palms.
Fabric pills easily after wear or washing
BEST FOR CROSS-COUNTRY SKIINGBlack Diamond Guide Finger Glove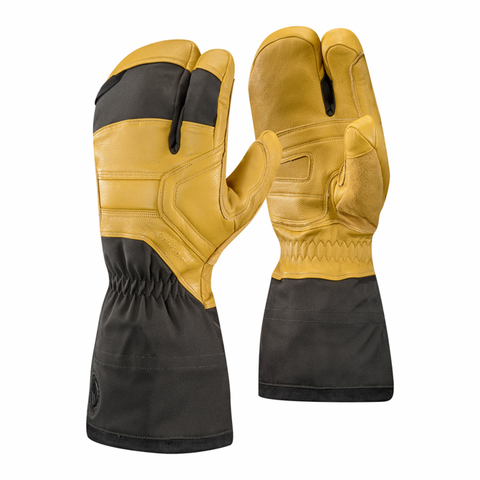 BLACK DIAMOND amazon.com $179.95 SHOP NOW
Key Specs
• Shell Material: Woven nylon and goat leather
• Insulation: PrimaLoft Gold synthetic, wool, and fleece
• Cuff Style: Over the cuff
You'll stay warm in the Black Diamond Guide Finger Gloves. They have a fleece palm lining, a removable PrimaLoft Gold and boiled-wool liner, and a waterproof Gore-Tex membrane. On top of that, the nylon shell is abrasion-resistant to extend this mitt's lifespan.
Six sizes to choose from
Foam padding on knuckles for impact protection
BEST HEATED MITTENS Outdoor Research Lucent Heated Sensor Mitts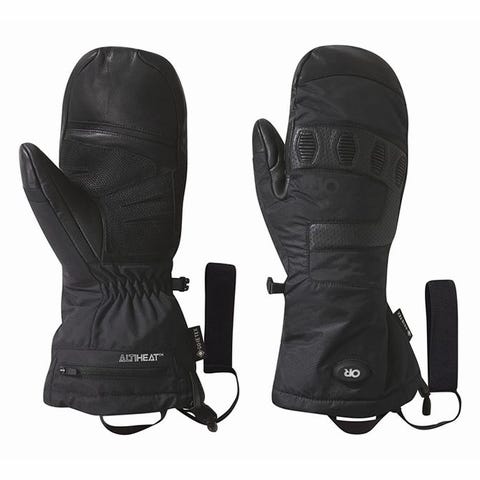 OUTDOOR RESEARCH amazon.com $358.95 SHOP NOW
Key Specs
• Shell Material: Nylon and goat leather
• Insulation: Synthetic Enduraloft
• Cuff Style: Over the cuff
In 2019, these heated mitts were updated for the first time since they first came out in 2014. They now have touch screen–compatible leather fingertips on the thumb so you can avoid taking off your mitts to take a picture. And depending on which of the three heat settings you use, they will keep your fingers toasty for 2.5 to 8 hours—a game changer if cold hands are always an issue for you.
Electrically heated gloves interfere with the performance of avalanche beacons, impairing your ability to conduct a search or be located
Expensive
DURABLE CONSTRUCTION Smartwool Ridgeway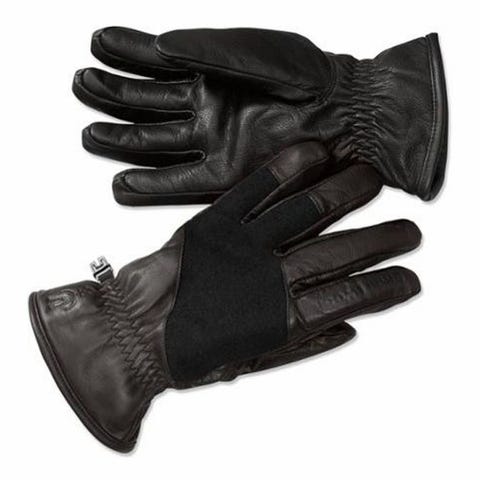 SMARTWOOL rei.com $90.00 SHOP NOW
Key Specs
• Shell Material: Leather, Merino wool, and nylon
• Insulation: Merino wool and nylon
• Cuff Style: Under the cuff
These gloves are made with snow sports in mind. Although they don't have a ton of flashy features, they have a hardy leather exterior and double-layered thumbs and index fingers so you can worry less about wear and tear over time. Plus, the terry loop knit interior lining is warm and soft.
Four sizes to choose from
Good price for leather gloves
Cuff could be longer to protect more of your wrist and forearm
BEST FOR BLUEBIRD DAYS Eddie Bauer Sun Valley Down Mittens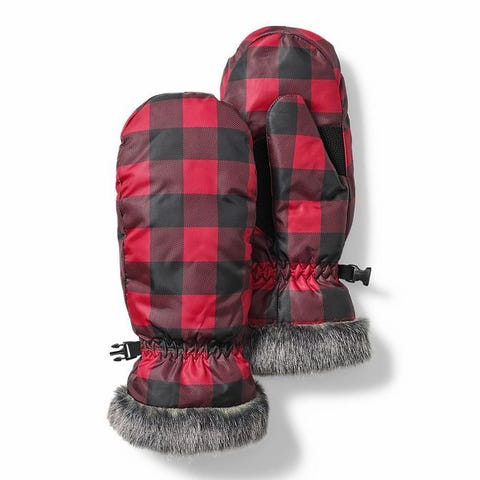 EDDIE BAUER walmart.com $34.99 SHOP NOW
Key Specs
• Shell Material: Polyester and nylon
• Insulation: Down
• Cuff Style: Under the cuff
If you're looking for a trendy glove that will take you through a mild winter adventure, the Sun Valley Down Mittens are a fit. They are water-repellent and have down insulation and a faux fur trim for added warmth. They don't do well in slush, so save these for drier days.
Need to be dry cleaned
Not fully waterproof