Grand Mesa 2-Person Tent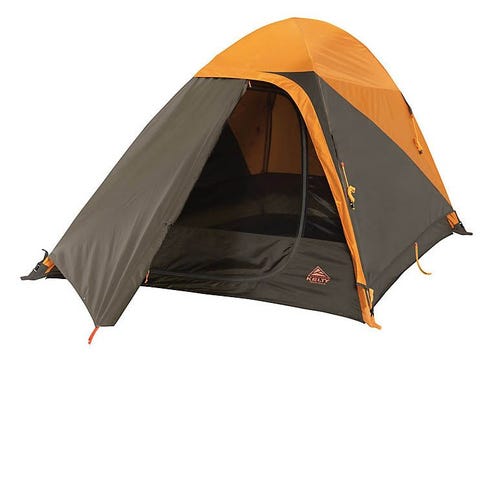 KELTYmoosejaw.com$129.95BUY
This is a just-plain-reliable tent, especially for beginning campers or campers in need of a spare. It's affordable, while durably built to keep you safe and dry. It's also extremely easy to set up and tear down. Setting up a tent is one of those things that looks exactly like it does in the cartoons if the weather's rough or you're a newbie. Poles poking eyes, tent fabric enveloping people, etc. So if you're unpracticed at the whole tent thing and don't want to look like an idiot, this is your best bet.
2+ Person Tent & Waterproof Rain Fly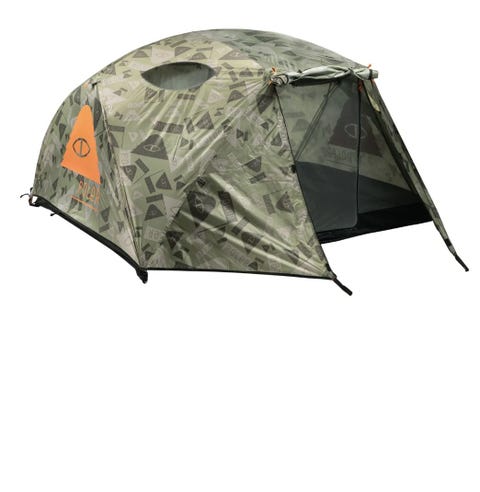 POLERnordstrom.com$250.00BUY
Poler has been a favorite of mine forever, because in addition to making sturdy products, it makes trendy ones, tapping into really fun color schemes and design philosophies that put it ahead of more traditional camping brands. Style matched with utility, Poler's two-person tents are lightweight, easy to set up, and wildly weatherproof. The colors are cool too, and as a vain person, I believe the tent must look good for the sake of the campsite's vibe. That makes me sound like a glamper, which, like, yea kinda, but not all the way. This tent is plenty spacious for a pretty affordable $250.ADVERTISEMENT – CONTINUE READING BELOW
Entry Pack TS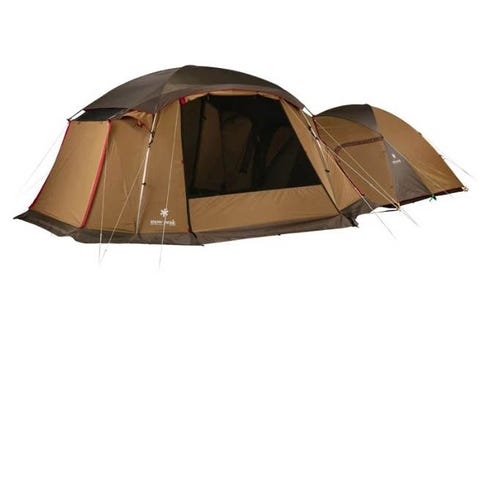 SNOW PEAKsnowpeak.com$1,149.95BUY
This is the Ritz Carlton of tents. All of Snow Peak's tents are phenomenal, but this one offers a living area and multiple bedrooms. Bring a whole dining room set and hold game night inside it. Pack a nine-piece orchestra and let them perform. You damn well could.The Napsack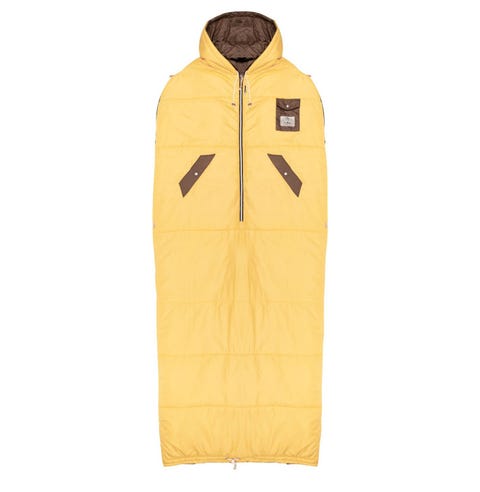 POLERpoler.com$130.00BUY
Another Poler design here. Sleeping bag, jacket, blanket—this thing does everything. The Napsack, with its armholes and cinching bottom, is comfortable without feeling stuffy and sweaty like a lot of sleeping bags do. Because it's so versatile, I recommend having a few around, especially for spring or fall camping, when the temperature can drop drastically late in the night. No one should be able to make layering with a sleeping bag look good, but Poler pulls it off.
NanoLoft Puffy Blanket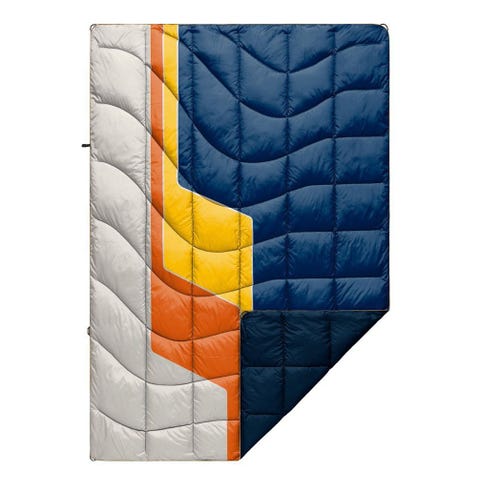 RUMPLrumpl.com$179.00BUY
Rumpl's signature design is its outdoor blanket, which makes the quality of camp life much better, primarily by keeping you warm without weighing you down. Aside from that, corner loops let you secure the blanket to the ground—a small feature that fixes one of camping's most annoying problems. And there's a cape clip, so you can wear the blanket around hands-free. Rumpl stuff is made out of outside-friendly materials that are durable as all holy hell.ADVERTISEMENT – CONTINUE READING BELOW
Beacon Lantern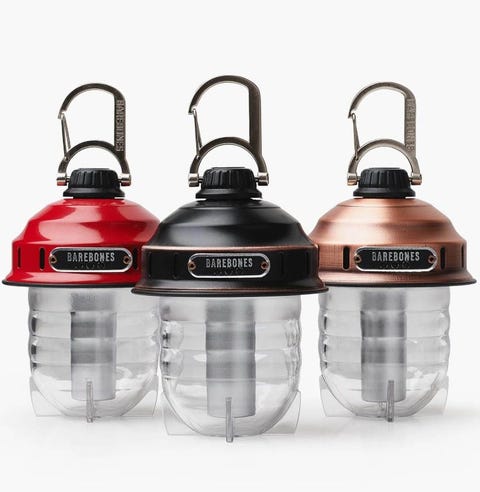 BAREBONESbackcountry.com$44.95BUY
Sure, fire light is nice, but you'll need something machine-made, too. Barebones has a ton of lanterns, but two really stick out: the Beacon hanging lamp and the larger Forest lantern. While the Beacon's carabiner clip makes it more portable, the Forest gives more coverage. Both have incredible (and rechargeable) battery life and dimmer settings, and both are the rough and tough quality you need for camping.
Explore Box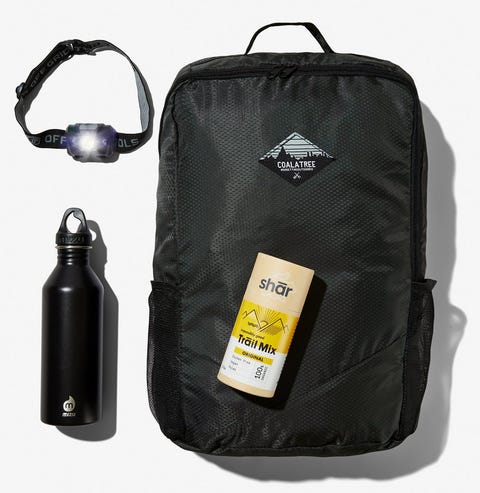 BESPOKE BOXbespokepost.com$55.00BUY
This box makes camping easy, especially if you're a new camper tagging along on someone else's trip and just need to worry about the essentials. The Explore box comes with a headlamp; a foldable, lightweight backpack; an insulated water bottle; and a little trail mix. Don't let the affordability deceive you. This is some high-quality stuff that Bespoke Post bundled to get the word out about fantastic small businesses. Isn't it wonderful when convenience and righteousness overlap?
Siesta Folding Reclining Camping Chair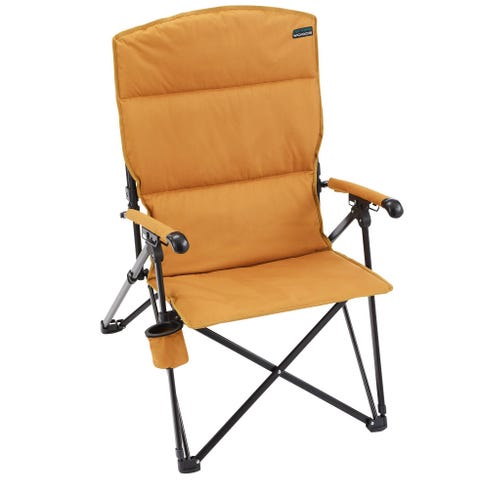 WOODSwoodscanada.com$50.00BUY
Camping chairs are inherently uncomfortable, save for this guy. Sure, it's not a La-Z-Boy, but it's about as close as you'll get to the camping equivalent. The Siesta is padded in just the right places and can even recline, it has a 300-lb. weight limit, and it is light as all hell. Get this: It even has a cupholder. What more could you really want in the great outdoors?ADVERTISEMENT – CONTINUE READING BELOWEnvy Travel Thermal Mug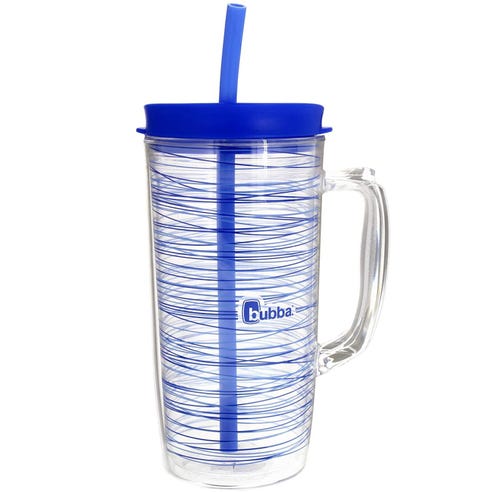 BUBBAamazon.com$29.99$26.99 (10% off)BUY
Okay, this isn't camping gear, sorry. You don't look at this and think convenience, and you're kinda right: It's a bigass cup with a straw. It's also my familiar. Since buying one on a cross-country RV trip with my family, I have relearned how to drink water out of a goofy little rubber straw. I've dropped it, thrown it, fought with it, and it's still here reminding me to drink water everywhere I go. Hydration is a huge issue in camping, and guzzling all that good H20 from this thing will make everyone else at the campsite conscious about their own water intake.
Seeker 4L Collapsible Water Container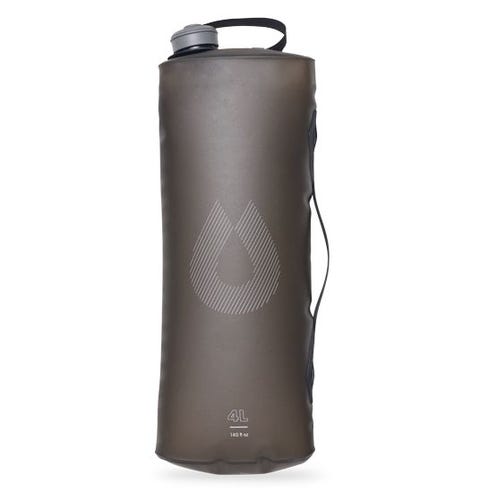 HYDRAPAKrei.com$28.00BUY
I drink a lot of water, as exemplified by the 48 oz. Bubba I still carry around my house. Whether or not my bladder is built for that (it totally isn't), I love chugging that liquid gold. But I couldn't carry as many gallons as I wanted on camping trips in heavy plastic containers—and I don't want to muck up nature with more plastic. With HydraPak, I can store and carry four liters with no issues at all. By my math, that's more than a day's worth of recommended water intake, which means I will drink it in two hours and spend the whole camping trip behind trees but #hydrated. Grab a few of these for you and your crew.